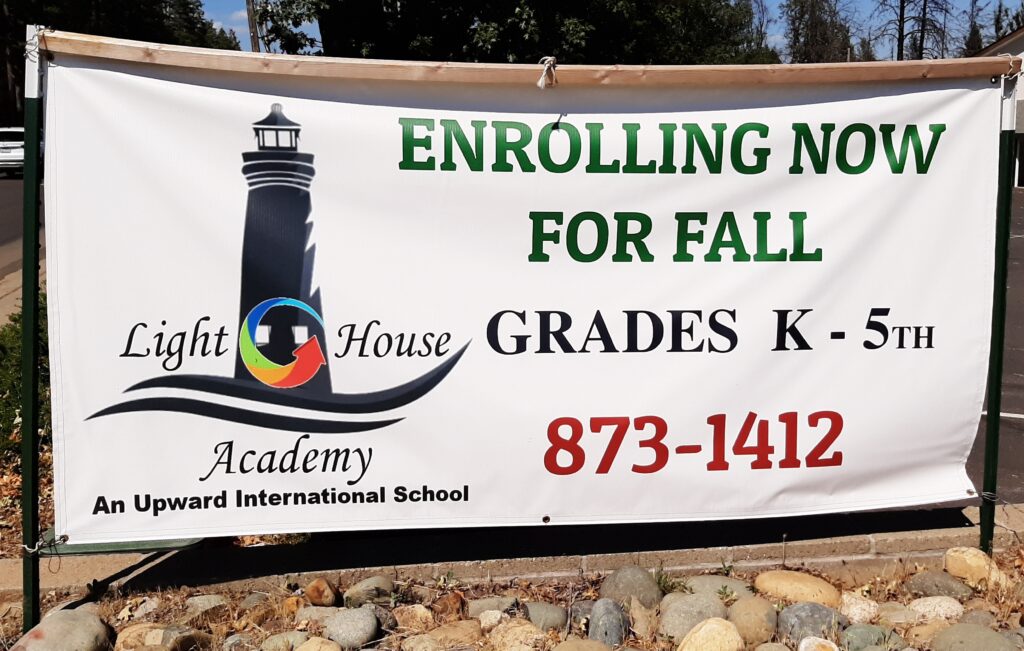 22-23 Student Handbooks are HERE, We also have the school calendar ready!!!
Check back regularly if you don't see what you're looking for, or you can send us a message.
Applications now being accepted for FALL 2022!!!
If you are re-enrolling, please contact the main office or your teacher
Parent / Student Handbooks are now ready!!
Following the devastation of the "Camp" Fire that swept through the towns of Paradise and Magalia, California, all schools were closed for nearly a year. One victim of the fire was the Cornerstone Christian School. Located at 6500 Clark Rd. in Paradise, the First Baptist Church was no longer able to reconstruct the school staff, student body, or facilities. Upward International Schools stepped in and opened the newly formed Lighthouse Academy.
Lighthouse Academy serves elementary students in grades Kindergarten – 5th (Grades 6-12 are located at Pines Academy Campus in Magalia). Meeting the needs of Christian families and fire survivors is extremely important to our staff and families. The emotional needs of each student and family are taken into consideration on a daily basis. Each family finds itself in similar yet different circumstances.
Our Enrollment Process
Fill out and submit an application for the appropriate grade level
Our office staff will review your application and determine acceptance within 7-14 days
We will email you an approval letter with our electronic enrollment and medical forms which include payments (see below)
We will submit a transcript request for your students records
Schedule an orientation and assessment (first time students) to determine where your child is at in core academic competencies
Schedule classes
Fee Structure
Annual Registration Fee $200
Annual Curriculum Fee $350 (shipping charges may apply)
These Fees are due upon enrollment each year for each student.
Annual Tuition is $5,500 (discounts apply for early payment i.e. $4,500 paid in full)(payment plans available/monthly and semester)
We have a 10% discount on tuition for additional children regardless of Academy
The Parent-Student Handbook, The Calendar and The New Student Application for 2022-2023 are posted for your information and convenience.
Registration materials can also be received by calling (530) 873-1412 or emailing us at office@upwardinternationalschools.net or clicking on the "More Information" link.
The Academy staff pledges:
* To nurture, love, and pray for each student
* To educate students for today's challenges and tomorrow's world
* To provide fair and consistent guidelines to instill self-discipline
* To lead them into a personal relationship with Jesus Christ.