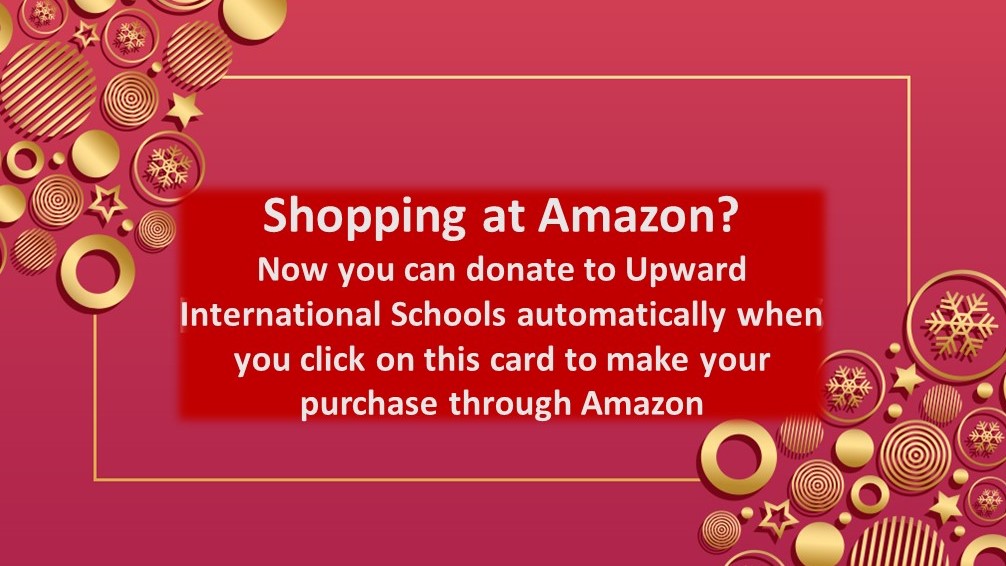 ATTENTION AMAZON SHOPPERS
The Amazon Smile is working overtime to provide charitable donations to our Schools. For every qualified purchase you make through the Smile.Amazon.com website they will donate .05% to Upward International Schools.
Click Here or on the Red Card Above to shop Amazon and help the Schools.

Here's how it works. Amazon has set up a way to donate to your favorite charity by using a special link when you shop on their "smile" website. It works exactly the same as the regular Amazon websiteIt donates a percentage of each sale to our charity, Upward International Schools.It doesn't cost you any more than it would on the regular Amazon website, and you won't even notice any difference. Here is the link for you to use to shop Amazon for your holiday shopping.
Thank you for your patience while we expand our online presence and work to update all our products to align with our new partner.

(Recent Updates: Covid-19 Information Update, HOMESCHOOL Services are finally updated)

We are proud to announce a new partnership!!! Our Malaysia Campus, Upward Learning Centre has just received their full Accreditation with the National Association of Private Schools (NAPS). UIS main is now working to receive school wide Accreditation for the coming school year. They are an amazing organization with a like mind and heart and we are so proud to be partnered with them.
We seem to have been moving from one crisis to the next but WE ARE INDEED MOVING ALONG! We have survived 18 months of wildfire recovery on campus. Over 85,000 meals have been served, over six million bottles of water distributed, 100 generators provided, mountains of clothes handed out, 300 school backpacks, cars and RV's given away and, of course, schools being managed. Praise the Lord!
In the current great issues of life, COVID-19, we are indeed moving along. All our students, in three countries are involved in remote education.
In California we now have two schools, Lighthouse Academy in Paradise and Pines Academy in Magalia. Students are working in their textbooks with connections to teachers and each other via phone, online video, Whatsapp, and Google classroom. Others are invited to join remotely to complete school years in an organized setting.
In Malaysia, our two Upward Learning Centre campuses, Kuala Lumpur and Selangor are connecting with their students via Google classroom, Zoom for live classes, video where internet is unstable, as well as Whatsapp and Kazoom for testing. Personal contact with parents is important due to the inclusive nature of special needs students involved in general education classes.
In Kenya, St. Jude School, is affected mostly by the difficulty of teachers' freedom to travel under the government restrictions. Technology is missing and desperately needed. Help is needed. Please check out their story. Click here.